POZNAJ DOKTORA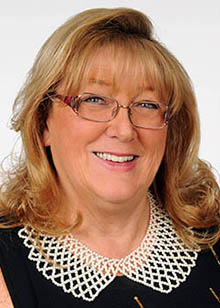 Dr. Halina M. Semla-Pulaski
DPM, ABPOPPM, FASPM, PC
Diplomate American Board of Podiatric Orthopedics & Primary Podiatric Medicine
Visiting Professor Jagiellonian University - Krakow
Konsultant Winthrop University Hospital, Mineola, NY
Autor publikacji naukowych w Europie i USA
"Executive" członek Rady Dyrektorów New York College of Podiatric Medicine
Recipient Honoris Causa Degree za osięgnięcia w dziedzinie nauki
Posiadam wykształcenie medyczne polskie oraz amerykańskie. Moim dodatkowym atutem jest magisterium z toksykologii. Jestem konsultantką w Winthrop University Hospital, Mineola, NY oraz członkiem Rady Dyrektorów (Board of Trustees) w New York College of Podiatric Medicine. Jestem "Board Certified" z tytułem - Diplomate of American Boards of Podiatric Orthopedics and Primary Podiatric Medicine.
Staż medyczny podyplomowy w zakresie CHORÓB NÓG/STÓP w USA odbyłam między innymi w:
West Point Military Academy-Keller Army Hospital, West Point NY, (chirurgia laserowa)
US Coast Guard Academy, New London CT. (medycyna sportowa i rehabilitacja)
Veterans Administration Hospital ,Castle Point NY ( choroby układu krążenia)
Veterans Administration Hospital, Bronks NY (dermatologia)
Veterans Administration Hospital, Northport, NY (reumatologia)
Foot Clinic of New York, NY, NY (ortopedia dziecięca)
Aktywność dydaktyczna i naukowa - jestem autorką i wspólautorką następujacych publikacji wydanych w okresie pracy w ośrodku badań naukowych w Winthrop University Hospital, Mineola NY. Dziedzina: Metabolizm i Endokrynologia:
"The effect of Cortisone on Calcium and Phosphate Absorption and its Interrelationship with 1,25(OH)2- Vit. D3—Sixth Annual Scientific Meeting of the American Society for Bone and Mineral Reaserch, Abstract, June 1984,
"The Effect of Glucocorticosteroids on Calcium Absorption in the Intestinal Tract"- Comparative Physiology and Biochemistry, Liego, Belgium, August 1984.
"Effect of Hypophysectomy on Tissue Alkaline Phosphate,Enzyme, 32:149-156,1984.
"Interrelation of Cortisone and 1-25 Dihydroxycholecalciferol on Intestinal Calcium and Phosphate Absorption, Calcified Tissue International,36:608-614,1984
Discordant Effect of Glucocorticosteroids on Active and Passive Transport of Calcium in Duodenum", Calcified Tissue International,36:327-331,1984
"Influence of injected Caffeine on Metabolizm of Calcium and the Retention and Excretion of Sodium, Potasium, Zink and Copper", American Institute of Nutrition 273-280,1986.
"Effect of Hypophysectomy on the Occupied and Unoccupied Binding Sites for 1,24 Dihydroxy-Vitamin D3 in Intestine" Bone 7: 49-53,1986.
Kontynuuję udoskonalanie mojej wiedzy medycznej poprzez coroczny udział w seminariach naukowych, sympozjach oraz konferencjach medycznych.